After many ninja sightings and shadows one thing led to another, and we could finally master the art of Card-Jitsu; to become a ninja!
Once you've earned your Black Belt you have to battle Sensei to become a ninja! You don't need to go buy any Trading Cards, you will win after 3 – 5 battles with him. Maybe even sooner!
When you beat Sensei he will give you a Ninja Mask!
When your a Ninja you can do a bunch of awesome things! You'll have access to the Secret Ninja Hideout and the Martial Arts Catalog.
At the Secret Ninja Hideout you can play Card Jitsu, buy items from the Martial Arts Catalog (Members Only), and enter the Fire + Water Dojo's (Members Only).
You can also become Invisible like in Penguin Chat! To become invisible you have to be a Ninja and have the Ninja Suit and Mask, then dance while wearing those items and you will be invisible!
To distract penguins and turn invisible with a poof of smoke, first buy the Cloud Wave Bracers in the Martial Arts Catalog. Then wear your Ninja Suit, Ninja Mask and the Bracers then wave:
For a special video on everything Ninja's can do, check out the video below!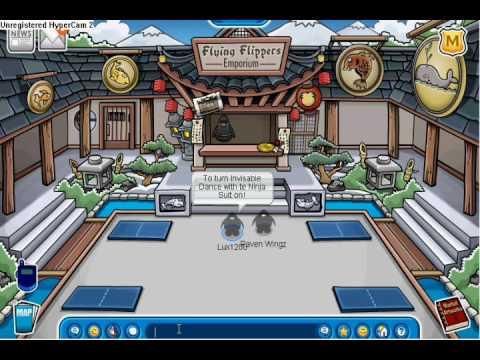 (Items have been added to the Martial Arts Catalog since video was made)